Ingenia Tech: Sci-Fi Intelligent Living Becomes Reality

Technology has a habit of forcing change in a swift fashion nowadays. It's strange to think that just two decades ago cars needed outstretched antennas to receive a weak FM radio signal (as long as you weren't anywhere near a tunnel). Today, not only are we in the midst of a race for tech companies to release the first competent selfdriving cars onto the roads, but Tesla CEO Elon Musk recently launched a roadster hurtling towards Mars (traveling well above the national speed limit, too, we might add). From automated robots to Smartphone controlled Lighting, technology has affected our household needs from all directions. Our home interior demands are no loners per se. Headquartered in Kolkata, Ingenia Tech is one of the torch bearers for this movement in demands in the eastern part of the country. Ingenia Tech is a Design, Engineering and Project management firm in the arena of extra low voltage systems (ELV). Ingenia Tech takes care of the tech interior needs providing solutions to suit modern day lifestyle requirements. An all-rounder, Ingenia is a distributor, dealer and system integrator for a range of tech giants in the industry. User experience is given the utmost priority while choosing products for the clients. Providing turnkey solutions for the technological needs with all types of customization is Ingenia's forte.

As project engineering organization at the core, Ingenia Tech delivers solutions to clients based on the requirements with highly customizable probabilities. Ingenia works with a lot of brands, while maintaining a research and development wing for trying out integrations of new technologies in the market. Currently, Ingenia is focused on wireless technology. The overall smart home market is expected to grow from USD 76.6 billion in 2018 to USD 151.4 billion by 2024, at a CAGR of 12.02 percent. The growth of the smart home market is driven by various factors, such as a large base of internet users and increased adoption of smart devices; rise in the awareness of fitness and healthy lifestyles owning to the high disposable income in developing economies; high importance of home monitoring from remote locations: rise in the need for energy saving and low carbon emission solutions; cost reduction measures enabled by smart homes; rapid proliferation of smartphones and smart gadgets; existence of market players focusing on expanding their smart home product portfolios; and widespread concern about safety, security, and convenience. In conversation with the two partners Abhinav Jajodia and Rohan Agarwal, Abhinav explains how electronics can be controlled with their products and solutions. Ingenia Tech maintains an automation approach that doesn't require customers to feel the need of engineers to fix a problem or compatibility. Besides, the home automation enabler also provides remote support to every customer. Every user is provided with a username and password. This helps the Ingenia
Tech engineers to keep a check on the customer's automation system. In case of any bottleneck, like power surge or load error, Ingenia Tech's solution interface notifies the problem thereby keeping a check without entering the house.

Compatibility and Integration
Ingenia Tech is entering partnerships with several smart appliance designers. With the technology expertise in the domain, Ingenia Tech has capabilities to deliver, affordable smart homes, and luxury smart homes etc. While explaining the possibilities of how every piece of furniture or appliance can be automated, Abhinav mentions that there are list of products which are compatible in system. Any system bought and desired to be integrated and automated can be done by the customer himself. Ingenia Tech works on a protocol called ZWAVE. In every country, Zwave operates on a different frequency and in India the Zwave frequency is 865.2 Mz.

"Ingenia Tech Takes Care Of The Tech Interior Needs Providing Solutions To Suit Modern Day Lifestyle Requirements"

Ingenia operates with VRV compatible units for Climate control. The company promises to automate any kind of air conditioning units, enabling it to give feedback to the user in control. Curtain control and gesture control are also part of their offerings. The gesture control pad is more like a photo frame, as Abhinav explains, and is simply able to capture gestures like waving of hands and controlling curtain falls or switch off or on appliance. For security solutions, Ingenia Tech offers Digital lock systems which can be connected to the overall Home automation system of the house, wherein the company makes practical approaches to the customers solving their day to day dilemmas.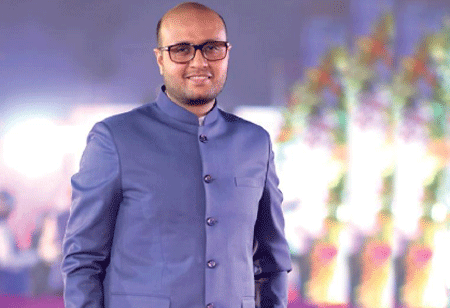 Rohan Agarwal, Managing Director

Equal Expertise in Wired Solutions
Ingenia Tech pays equal attention to wired solutions. In times when consumers are convention-al to add wireless, the company creates wired distribution boxes for the same. Wired automation takes extra time and effort laying the wires. However, Ingenia's approach to wireless does not make use of any framework. The automation enabler enters into a project during the electrical provision, so that in future, any kind of efficiency or add on civil work required is well taken care of. Ingenia delivers replacement guarantee so that users don't have to worry about any failures when it comes to services and products. And every customer is assigned an engineer as a single point of contact from company. This is to prevent any confusion for customers. Besides, Ingenia has a file for each and every customer, thereby being ready with all the details. Ingenia has voice control system for media purpose. The products are compatible with Alexa, Siri, and Goggle Assist. Ingenia system is completely wireless. If a plug & play model is not possible, Ingenia Tech is able to use IR equipment to clone the remote system. More so, customized apps for people who can check their hard drive for songs and movies they like and have their ratings in IMDb put.

What Lies Ahead
"We don't believe in over selling to customers, but creating awareness about the brand and how user friendly and convenient it is", says Abhinav.

Rohan and Abhinav are hopeful about the future of Ingenia tech and looks forward to adding several new technologies making the life of the user comfortable. Given the laid back response of consumer community in the east India region, Ingenia tech steady and exponential growth is destined to take eastern market quickly and head for the entire central and western India.