Founded in 1995, Access Infotech offers off the shelf Enterprise ERP solutions for the Manufacturing, Contracting, and Retail & Distribution industries. The Managing Director, Jashinder Bir Singh gives a detailed account of their venture.

In conversation with Jashinder Bir Singh, Managing Director, Access Infotech

It goes without saying that ERP finds its best use case in the manufacturing industry. ERP software is akin to custom automation and this explains the gist of it in totality. What advancements is Access Infotech bringing in this domain?
In the current competitive scenario, a business can increase its margins by either increasing its turnover or keeping a check on the bottomline. Our ERP, called Access EBS 5.0 is the modern day ERP tool for Manufacturing, Solutions and Service Based Organizations. It is an integrated and Modular solution that covers all critical business operations for organization as a whole. Inbuilt checks and balances ensure correct actions to be performed at the right instance as well as keep it aligned to industry standards. Unlike major ERPs in the market that require reengineering of the business processes for implementation, we integrate the client's processes into the software. This enables clients to do away with altering their current process in the organization.
EBS is the right tool that can give insights on control of inventory, production, planning, sales order, and dispatches in one integrated platform. A CEO is able to view everything end to end on a single screen dashboard behind which our tool works seamlessly, allowing them to take the right decision at the right time. This in turn increases their bottomline, and hence their margin.

EBS is the right tool that can give insights on control of inventory, production, planning, sales order, and dispatches in one integrated platform
ERPs have been more or less same through out in terms of functions. To stand out in the market, ERP providers have to go through varied implementation challenges. How has Access Infotech differentiated itself by overcoming peculiar challenges?
This is a great question. Normally, the users are reluctant to key in the Master data, rightly so due to the digital burden. In order to make things easier for the users, we provide them with a template in excel format wherein the user is required to fill in the data. We take this dataset and automatically pour them into our software thereby saving a lot of the precious time of entering the master data before they go live into transaction mode of the ERP implementation. Ican proudly say this is an enablement that only Access Infotech offers to make the implementation smooth.
Most importantly, we have adopted the process to first study the client's business as consultants, and make a report suggesting the areas that may require changes to make the system configurable at their end. These are minimum changes which we do since the software is generic in nature. Ultimately, as the user gets reports he
will see the efficiency of the software received with minimum or no changes to the business processes. More so, we have given workflow based access to different user in our software with different rights given to respective users. We have maintained that data integrity and data synchronization remains the top priority in our software. This has earned us the trust of a plethora of customers and we continue to strictly follow the same.

Share with us one of your successful implementation episode.
There are plenty, however, this one client grew from an 80Crore turnover organization to a 100 Crore.For a manufacturer,supplier & exporter of power cable jointing accessories were facing data integration issues with no single system to store the data.This resulted in difficulty in consolidating the data at corporate level leading to delay in planning activities. With Access EBS ERP 5.0 for Industrial Equipment the client centralized its IT Infrastructure to increase operational efficiency and improved visibility while expanding its capacity for growth and streamlining its global operations. We have secured similar client satisfaction in several other domains and geographies.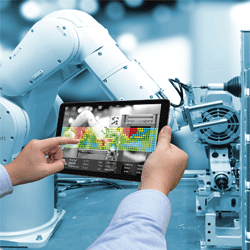 What further plans do you have for Access Infotech' glorious days ahead?
We want to take this ERP pan India in the next 12-18 months, followed by looking towards the Asia and Middle East market. We will continue to meet the changing technology need of the manufacturing domain at large.