The emergence of Public cloud infrastructure has pampered the IT users. Organizations seek IT as a consumable without having to manage complex datacenters. On the flip side, they are confronted with the truth of maintaining data on premise for security, compliance, legacy, uptime assurances and data sovereignty. Nurturing the concept of private cloud with the ease of public cloud, Bangalore based EnCloudEn brings an experience of multi-tenant selfservice platform through its Private Cloud solution.

EnCloudEn solution comes with three core propositions comprehensiveness, ease of consumption and automation in operations. Leveraging these, enterprises can now build their private cloud with one stack, grow as they need and also eliminate requirement of skilled personnel for managing the cloud. The underlying infrastructure is abstracted and made available to business users just as a consumable.

Comprehensive Stack
A standard private cloud infrastructure comprises of components like hyperconverged infrastructure, cloud management, monitoring, orchestration, automation, virtual session broker for deployment. These components usually come from different vendors and don't integrate as a cohesive unit. Apart from cost and complexity, this also elevates significant overheads in terms of skill-set requirement. EnCloudEn solution is a combination of all these components in a single stack.
Components are very well integrated and offers a great deal of efficiency. Additionally, the EnCloudEn stack is a software only stack and works on any standard commodity hardware; allowing organizations to repurpose their existing hardware. EnCloudEn's multi-tenant dashboard enables teams, departments have logical separation in their infrastructure while being hosted on the same cluster of hardware.

" EnCloudEn's hyper-converged infrastructure helps creating modular architectures; in turn helping organization scale their infrastructure flexibly"

Zerotouch is the way to go
EnCloudEn ushers in a completely new era in the private cloud domain with its machine intelligence 'Zerotouch' engine to simplify and automate the management. Starting from deployment to day to day operations, EnCloudEn Zerotouch engine ensures human intervention remains minimal.

With the EnCloudEn platform, IT teams are empowered to do a lot more with a lot less resources - Seamless monitoring and analytics drive predictable performance, leveraging the dynamic nature of clouds to autoscale their applications or load balance. EnCloudEn is focused on total app and process awareness on all metrics, with complete APIs readily available for easy integration.

With these, the company takes forward the notion of preemptive issue resolution. EnCloudEn's live monitoring constantly gives updates of every single hardware and virtual machine in the entire infrastructure. Alerts are generated depending on the severity of the impending problem for immediate resolution. EnCloudEn's Louvre can automatically manage every single piece of software and patch that needs to be installed. It perpetually ensures that all the systems are patched, and all the applications are updated. It also keeps track of the software licenses to ensure compliance is tracked on an ongoing basis.

IT as a Consumable
Large monolithic IT systems are a thing of the past today. IT systems are getting built and provisioned on a 'as you go' and 'as you grow basis'. EnCloudEn's
hyperconverged infrastructure helps creating modular architectures; in turn helping organization scale their infrastructure flexibly. EnCloudEn's multitenanted dashboard enables teams, departments have logical separation in their infrastructures while being hosted on the same cluster of hardware. These tenants can then be managed, monitored by designated individuals with role based access. There is self-service available for business teams to provision, deprovision their own instances with minimal dependency on IT teams.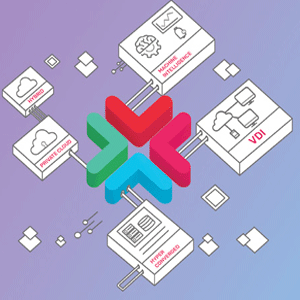 The role-based access not only elevates information security but also provides insights for Maximum Utilization. EnCloudEn's Louvre gives an accurate insight into how the resources that have been implemented are being utilized across departments. Trends, graphs and consumption reports provide an exact feedback on the touchpoints that have under-provisioned the resources and the ones that have over-provisioned to the level of each individual department or project.

Powering India's digital transformation
EnCloudEn solution powers several well-known companies in various sectors. The list includes some of the largest companies in India in the banking, pharma, education, hotels, hospitals, print & publication, IT and product companies. All the customers evangelize the solution in the market.

EnCloudEn acts as a catalyst for innovation. While adapting business models to the digital arena, organizations need agility, ability to scale up and down, efficiency, elasticity and cost optimization. EnCloudEn Private Cloud provides all this and more.