DataNote is a comprehensive enterprise solution designed to deliver the expected results without sharing confidential data or logic to any third party including implementation partner. It is the only enterprise solution which is developed with the innovative OpenLogic Framework technology. The company's solutions are tailored with industry specific standards which provide best practices and processes to help companies optimize business processes and adapt quickly to changing market demands. From local businesses to global industry leaders, DataNote has been serving companies of all sizes in India and abroad.

In conversation with Mayur Makwana, Vice President, DataNote

A recent survey showed that 70 percent of companies are actively working towards digital transformation so it's not surprising that ERP remains one of the most important technologies for businesses to have at their disposal. How DataNote is positioned in this market?
DataNote provides highly configurable and customizable ERP which is user friendly too as compared to other ERPs. We have provided many unique features that are right now not available in the Indian market. DataNote is mainly designed for manufacturers, EPC companies, and traders. The key unique feature of DataNote is to develop in such a way that customer can access the source code where they can modify their source codes, logic, and the flow of
The key unique feature of DataNote is to develop in such a way that customer can access the source code where they can modify their source codes, logic, and the flow of ERP themselves
ERP themselves. They can enter the forms, modify the forms, add the fields and mould the flow according to their requirement revenue report and forms. Since it is developed with open logic framework technology, its uniqueness has a key. Logically it is open for everyone for every client. DataNote, unlike some major ERP providers, has developed such a framework, which has two major parts, one is Structure Engine and the second is Logic Engine. Structure engine contains 70 to 80 lacs of source code line and structure engine ownership remains with SAFAL as a company. At the same time, the logical engine containing 3 lacs of line remains with the client. So every client is getting their own source code panel where they can loop or modify the logical coding. They are also getting inhouse ERP. They are getting a standard product feature as well as source code, so they can make their own in house ERP. This is a key feature of DataNote which we provide with the help of open logic frame work technology which is one of a kind innovation in the Indian market.
What kind of solutions does DataNote's ERP software deliver to customers which suite their fully integrated applications, powered robust and flexible platform?
We have ERP and CRM, both. However, we have solutions for different industry verticals like plastic industry, food and beverages, the solar industry and many more. We cater to these industry verticals which have specific solutions or ERP according to their business challenges and requirements. More
over, we do offer business intelligence tools along with our product or ERP.

The process of implementing and using an ERP solution is a very complex process. And it'snot possible to implement every feature or process at the beginning all at once.How do you overcome these challenges?
The system is based on open logic framework technology which helps a lot for with implementation, while also allowing customer to have control over all the modules, forms and phases. With DataNote, companies can design ERP in their language according to their requirements. In production form or in production module there are a number of subtransactions like sales order or invoice or material requirement planning. So each module leaves a transaction, in which the user can design the required phase in any particular language.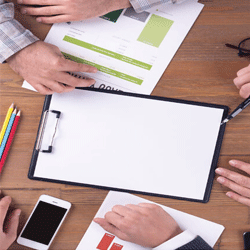 Tell us about your recent implementation which becomes a turning point for your company.

Many of the MNCs' have replaced their ERP with DataNote. We have been getting very positive feedback from the client regarding this new technology. After such implementation, what are your upcoming future goals?
We are planning to expand our reach into the African nations as well as some of the developed countries. Further, our Vision is to be a world class software services company that helps consumers and organizations to achieve their goals. We will accomplish our vision through our commitment to strategic growth, outstanding service, and community involvement.