As a cloud-based Artificial Intelligence (AI) algo trading service provider, TradeRays brings state-of-the-art innovation to the trading industry. Based out of Bengaluru, TradeRay creates a unique and innovative products to help traders reap more profits without any hassle. The idea of TradeRays conceptualized in 2016 to become India's premier cloud-based artificial intelligence algo trading service provider. Further, the founders will explain how the company focuses on making products and services extremely user-friendly.

In conversation with Narendra R, Founder & CTO and Anusha R, Founder & CEO TradeRays

There is growing pressure on financial institutions to continually innovate to improve customer engagement. Therefore, established banks and FinTech firms are turning to AI to drive Intelligent Automation. As a financial technology domain player, how has TradeRays grown and adapted to the changes?
The tools and data available in the market might have been beneficial for big investors, but the small scale investors have a hard time finding such facilities. TradeRays was started with a vision to change the world of Algo trading services for each and every investor and create a fair Algo trading environment. We have developed an algo trading platform BeATS (Beam Algo Trading System) to overcome above challenges. BeATS is a next-generation AI cloud-based platform. Using BeATS users can create algo strategies in minutes with Zero Coding
Strategy Development tools. It can also backtest the strategy and deploy it for live market monitoring for generating the signals. Currently, our platform is in beta-phase serving a couple of brokers.

We embrace Artificial Intelligence to create top-notch algorithms that process large amounts of data and information patterns to help user to create smart trading strategies
Automation and computing have brought about tremendous changes in trading and investing activities in India and around the world. What kind of services does TradeRays provide to customers that are also user-friendly?
Yes, I agree. The latest tools of technology, including artificial intelligence and machine learning, have replaced many human tasks, resulting in low error rates and a high margin of success. At Trade Rays, we embrace Artificial Intelligence to create top-notch algorithms that process large amounts of data and information patterns to help user to create smart trading strategies and give them great returns on their investment. We offer a wide range of AI-driven services to make trading easy and efficient for traders. Furthermore, we have different services to all segments of capital market clients but right now our focus is on algo trading services. We provide services such as Algorithmic Trading, Automated Trading, Strategy Customization / Migration , Technical Advisory, Screener and Financial News and Updates with our BeATS platform to retail/ individual clients.
With your innovation-first approach, how do TradeRays create products that make algo trading simple and convenient for all retail customers?
For using our BeATS platform, users do not require any coding knowledge and it's cost-effective to create algo strategies, just in 3-simple steps -
Design Strategy, Backtest Strategy, and GoLive by using our Zero Code Strategy Template. Moreover, our BeATS platform can connect to trading brokers so that whenever strategy signals are generated, clients can execute the orders directly in their DEMAT from our platform. As it's a cloud-based, users can access it from anywhere using any device.

Customer data is a tremendous asset for capital markets' organizations, information security is critical. How do you overcome these challenges?
Yes, user information security is our priority; we safeguard their personal information and strategies. We deployed our platform on Amazon AWS cloud where it's providing rich set of security tools. We are following 2-layer security check of user information; the data will be stored in encrypted format and the server content over SSL. And further, also, we have taken enough security measures which will enhance capital markets' organizations.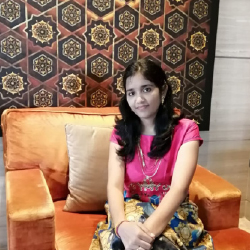 Anusha R, Founder & CEO

Please tell us about the firm's achievements and how has it helped TradeRays excel?
We have got MSME certification. TradeRays was also recognized by Startup India. Besides, we feel this is a start for us and we hope 2020 is going to be a greater milestone for us in terms of success and recognition across India.

What future roadmap has TradeRays planned for the years ahead?
In the coming 6 months span, we are planning to launch several products that will help all segments of financial market users. At the same time, we are checking digital currencies and blockchain-related products too.