One of Japan's largest financial services and banks, SMBC/SMFG, created a productivity management department in April 2017 with the objective to deliver higher productivity and operational efficiencies via new technologies. Robotic Process Automation (RPA) was the zenith point. With a pinhead-sharp focus to adopt automation as an important part of the organization's future, the group established a Productivity Management Department to take on this goliath plan which currently projects cost reductions of approximately USD 450 million by 2020 and nearly USD 1 billion in the medium-term. An RPA Center of Excellence was created to support compliance and risk operations, branch operations, routine operation center process and other high volume routine operations. Geographies away, a transnational consumer goods company wanted to automate repetitive and laborious tasks to drive efficiency, production, and accuracy across various service lines (P2P, O2C, R2A, SCM, MDM & Analytics and business units globally. The goal was to establish a Robotics Center of Excellence and to showcase its efficiency using an RPA Platform. A POC was successfully implemented and then taken into full scale. Another large consulting firm was carrying out highly complex, manual, repetitive, and time-consuming process. As a solution, automation was introduced across financial reports standardizing the business process logic and validating data in tables and in the narrative. Every aforementioned picture had a common crux, that led the seemingly difficult tasks to get sorted in a week's time. The crux was UiPath. UiPath's RPA expertise was the first choice every time the respective industry giants faced an iceberg in their journey.

Headquartered in New York, the enterprise-grade RPA platform vendor, UiPath was founded by a Romanian entrepreneur, Daniel Dines. By 2015, the organization had a renaissance and ended up branching into locations like London, New York, Bengaluru, Singapore, and Tokyo. In 2017, the company reported 590 employees and moved its headquarters to New York in order to closely serve its international customer base, which had risen to 700 customers from 100 in 2016. With such a bewildering rate of growth and accomplishment pushed by serious innovations, UiPath attracted planet-sized investors. On March 6, 2018, UiPath received megabucks in investment from Accel, CapitalG, and Kleiner Perkins Caufield & Byers, evaluating the RPA star to a whopping billion dollar organization. There is more to UiPath than what meets the eye; the year 2018 had just started, and UiPath surmounted USD 1.1 billion valuations, counts ovr 850 employees and 1,100 customers, and validated RPA as a strategic imperative for digital transformation and path to AI.

The Dawn of Change
With the growing attractiveness and popularity of enterprise resource planning, there is a need for businesses to move toward automation of processes to stay competitive. RPA is set to change the way companies manage their operations. Evidently, according to a Forrester Group report, the RPA market is estimated to reach USD 2,467.0 Million by 2022, at a CAGR of 30.14 percent between 2017 and 2022. The base year considered for the study is 2016 and the forecast period is 2017–2022. Given the market attention received over the years, UiPath as an organization is enabling fellow organizations to move faster into their digital transformation journey using RPA and AI as the key lever. The company is enabling rapid deployment of software robots that dramatically improve business productivity, compliance and customer service
across back office and front office operations.

The first industrial revolution was earmarked by James Hargreaves's 'The Spinning Jenny' in 1765. A new weaving machine that had 8 spindles and consequently one spinner was able to do the work of 8 spinners. The Spinning Jenny was practically doing what every automation initiative eventually roots for – eliminating redundant tasks to increase productivity. The second industrial revolution spoke loudly of mechanization and was inked in history by Henry Ford, with his first production line in 1913. The third stirred the world of computing in 1972 with Intel's first 8-bit processor and laid the foundation to the digital age which we so fondly strive to enhance. With a mind full of determination and a will to innovate and bring out only the best, UiPath combines Robotics Process Automation (RPA) with cognitive and AI tools to fairly contribute to what looks like the 4th Industrial Revolution.

" UiPath combines Robotics Process Automation (RPA) with cognitive and AI tools to fairly contribute to what looks like the 4th Industrial Revolution ".

India witnesses three types of IT-traditional, transitional and modern. Speaking of modern IT, Raghunath Subramanian, CEO-India at UiPath, explains that the businesses and industry enthusiasts are gravely concerned about the modern IT. He says, "Lot of people are worried about modern IT and hence they don't want to grow there. But these technologies are going to bring the next millions of jobs to India and we as a country should be conscious to embrace the change".

Breaking the stereotypes about how automation is killing jobs, the company encourages the best minds to contribute and create the next leap in RPA. More than 120,000 developers of all ranks are building upon the free UiPath Community Edition today. Supporting this growing pool of talent, the firm has launched the UiPath Academy to the world as the first open online training and certification platform dedicated to RPA users. More than 82,000 users spanning all continents have enrolled in the online courses since its launch in April 2017.

On a Rescue Mission in the GDPR Hustle
A technology like RPA could not have been existed in a better time than this. There has been no other new regulation in recent years that has made organizations worldwide in every industry more concerned than the EU's General Data Protection Regulation (GDPR). In their own ways, banks and other financial institutions have managed to cope with the varying regulatory burdens imposed over the last decade. But this is new, given its scale and reach. The challenges of GDPR are piling up like huge falls of fresh snow on the glaciers of Know Your Customer (KYC) and Anti-Money Laundering (AML) regulations. Unlike popular beliefs, calling RPA, the sole savior of the compliance dilemma will be an understatement. UiPath has been looking down the barrel of this hazardous situation and derives that there is more to their RPA platform that can be done in order to not just bring the organization in pace with compliance run, but help such companies to accelerate thenceforth. Therefore, UiPath brings together several digital service providers and integrates them into the UiPath RPA platform. The platform is the core on top which UiPath builds the partner products, thereby enabling clients to simply use the platform and make their data GDPR compliant. The UiPath Enterprise RPA Platform creates compliance modernization throughout the value chain, with simplification, improved control and oversight, as well as reduced costs in managing customer data without the operational headache that's typically associated with this segment.

All the GDPR notions have led to a modern day Exodus of the organizations towards digital transformation. However, not every industry receives the transformation changes without repercussions. The time to get used to and finally fall in place with the business and start reaping benefits off the digitized processes is frenzy. Most give up and therefore, don't prefer RP-led transformations in the first place.
However, a large insurance company saw the bright light with UiPath. The insurance firm was faced with a volume of 1.5 million emails per year coming in from the broker community. Mounting backlogs represented a big problem, along with the challenge of completing the workflow in compliance with Service Level Agreements (SLAs) and specific regulatory and statutory provisions. Enter UiPath with its uniquely open architecture and ability to integrate AI services to meet the intelligent processing requirements of end-to-end automation. The results were speaking for themselves. Not only did the automation remove backlog risks, but processing is now performed in real time, with 98 percent of cases being dealt with autonomously by the software robots 600 times faster than before, saving around 2000 work hours per month. Such is the power of RPA, beautifully demonstrated by UiPath.

For the Love of Automation
UiPath has been a domain veteran for years now, but the company has never perceived the technology as an opportunity. Instead, the people at UiPath believe in sharing their achievements in this technology for the greater good of individual industries and the technology itself. UiPath goes on to introduce a mutual benefit model for both aspects. Backing such objectives, it introduced the first open online training platform for RPA users.

This training has been tailored to enable all the key roles within an RPA Center of Excellence, from RPA Developers, Solution Architects and Infrastructure Support to Project Managers and Business Analysts. This program was like a token of appreciation and love for automation, which UiPath as an organization wanted to contribute to the society.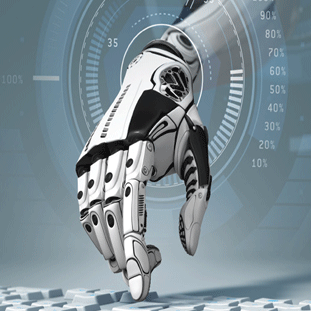 In any organization, RPA doesn't usually have a full house vote. A small segment of the management often feels that RPA is not absolutely necessary and some may even be unaware of a technology as such. UiPath amalgamates programs with prospective customers in collaboration with a strong partner network. Exhibitions and workshops are conducted demystifying the myths lurking around RPA and BI. UiPath's community forum too helps the cause. Having close to 15,000 members, the discussions involve the possibilities of RPA, roadblocks experienced and their resolutions.

Having sorted their technology advancements, UiPath has been focusing on global expansion with offices being established in Munich, Paris and the Nordic region. Bangalore is to be introduced with UiPath's Centre of Excellence, where the management plans to mass-hire software developers to focus on product development. UiPath is en route to solving the challenges associated with capability, agility and scalability towards achieving human like and easy to use platform than can multiply the productivity of a business' workforce.

Special emphasis is heaved on Enterprise -Grade Security. UiPath met the security requirements of NASA and therefore, NASA Shared Services Center has recently deployed UiPath into production.

BPM, Security, Cloud Virtualization, Machine Learning & Deep Learning, Data Analytics, NLP, Process intelligence and IoT integrations for ERP, CRM & ITSM; all these are part of the ecosystem growing around UiPath RPA platform. Releases and upgrades like Firefly, 10K Robots and Orchestrator suggest there is no stopping to the revolution that has been sparked by UiPath. With a humble start from automating libraries for developers to standing tall as the leading Enterprise RPA vendor, looks like UiPath has indeed brought about the 5th industrial Revolution already.