Wellthy Therapeutics: Pioneering Clinically Validated, Real-time Solutions for Chronic Disease Management
Chronic diseases are a sizable problem globally, but a combination of genetics and lifestyle trends renders Asia as the global epicentre. To put this into context, Asia is home to 60 percent of the world's 400 million diabetics, and an additional 500 million pre-diabetics and 800 million hypertensives. Mismanagement of chronic conditions in the present leads to escalating health-care costs in the future.

Unfortunately, the current healthcare paradigm is insufficient to deliver the kind of continuous care and real time insights required to enable individuals and healthcare systems respectively to develop the skills they need to prevent and manage chronic conditions.

Wellthy Therapeutics combines science, technology and design to bring continual real-time care as a compliment to the existing health infrastructure. In the process, the company is pioneering an entirely new category of medicine known as digital therapeutics. "At the core of it, digital therapeutics uses data inputted by the patient, collected by sensors, and extracted from medical history of the patients through other healthcare systems to generate insights and actions on the insights, powered through machine learning to deliver real-time and continuous care to patients suffering from chronic conditions", commented Abhishek Shah, Co-founder and CEO, Wellthy Therapeutics.
This line of treatment relies on aggregating and processing individual patient level data on lifestyle and medical parameters to hand hold patients and drive sustainable behaviour change to achieve better health outcomes at a per patient and at a population level.

"Wellthy Therapeutics combines science, technology and design to bring continual real-time care as a compliment to the existing health infrastructure"

"Wellthy's platform consists of several components built on a compliant framework, and using cutting edge languages. With our server side architecture on python and golang, mobile apps on kotlin and swift, and our dashboards on vue.js, angular.js and node.js - the platform is built for regulatory compliance and multi-country scale. Between mobile prescription apps for our users, dashboards for healthcare providers, and analytics for our partners - we offer cutting edge capability to improve patient outcomes at scale via continuous, integrated care", added Aradh Pillai, Co-founder and VP-Design and Engineering, Wellthy Therapeutics. Currently, the company has built out therapeutics for diabetes, chronic kidney disease and hypertension and is in the process of clinically validating additional therapies which will be added to the product suite in 2019.

A 'Digital Pill' for Patients
In the current care paradigm, patients receive virtually no support in-between their doctor appointments. Wellthy's Digital Therapeutic suite fills in this much needed gap by working as a compliment to the existing standard of care. Patients are taken through lessons and skills to better self-manage their chronic condition, and are given real time feedback and actionables on all their biochemical and behavioural data such as meals, activity, medication, lab results, blood sugar and blood pressure.
The platform is capable of connecting with every major connected wearable or consumer medical device, offering a seamless user experience. A combination of real-time coaching and constant upskilling helps patients improve their outcomes and their quality of life.

Decision Support for Stakeholders
Wellthy delivers prescription based digital therapeutics to patients through strategic partnerships with leading physicians, hospital systems and insurance, pharmaceutical and medical device companies. Physicians use dashboards to access patient journey data, for clinical decision support during a visit, further improving their ability to improve outcomes. When deployed in the right way artificial intelligence and machine learning technologies help systems get smarter. For a company like Wellthy Therapeutics, this means they can eventually deploy precise and continuous care for chronic conditions at low costs, across industries, geographies and languages.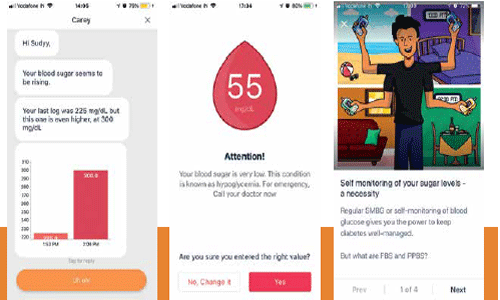 Based in Mumbai and Bangalore, Wellthy has a team of 70+ members, more than half of which are dedicated to engineering, design and product development. The company has published its outcomes with leading scientific journals in India and internationally. Wellthy is on a journey to develop an entirely new category of medicine in South Asia, which has already shown signs of being more effective than most entry-level prescription drugs when used as a compliment to the existing standard of care.