Technological breakthroughs are opening the path for digital transformation in the construction business. Today, there are countless examples of how technology is altering the construction industry by assisting enterprises in eliminating inefficiencies and low productivity that have existed for a long time. Clients are well aware of the market's quick changes. They are demanding more innovatively designed items for their homes, work places, commercial buildings and other locations. Client expectations are rapidly rising. As a result, they anticipate more modularized, specialized, and energy efficient buildings with increased security and health criteria. In the building industry, new opportunities have emerged. Sensors, hardware, and software usage is becoming much more affordable while enhancing efficiencies. With innovations in technology, construction professionals can expect more novel and valuable transformations.

Nowadays, construction industry clients have an ever higher expectation. They want their building to look nice, be safe, and create a pleasant living environment for their residents, among other things. The ever increasing complexity of the building design process has necessitated the development of a new approach to building engineering design based software. At every stage of the construction process, vast varieties of software packages are available to all disciplines of the construction team and provide assistance for a wide range of operations.
Unnecessary complexity is the enemy of excellent engineering and can lead to the failure of brilliant ideas
Significantly, one of the key players providing software solutions to empower builders to boost their efficiency to at least 14x is Mannacor Software India. Mannacor Software India was founded by Shashi Bhushan, who has been working in the IT business for 16 years and has a broad understanding of his field. "Providing software to the house construction business was both an opportunity and a challenge. It took months of brainstorming to convert the entire manual sector to one that was automated. I mapped an idea and brought it to reality, and now I'm giving a niche solution to the same" signifies Shashi Bhushan.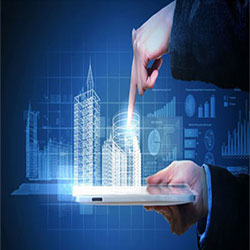 Bespoke Solution
Mannacor Software India is developing software and automating the complete industry that has been plagued by numerous challenges. The solution provided by the firm gives the end consumer and home builders great flexibility in terms of understanding their demands and assisting them in selecting the finest option that matches their budgets. The company is equipped with an excellent R&D team that keeps the business up to date on industry and technology advancements. The skilled team of professionals gives solutions to customers based on their priorities
while also keeping up with the most recent trends narrowed down by the research and development team.

The firm has quickly established itself as a leader in the field of IT consulting and managed services. It has the experience and resources to help clients of all sizes, from small businesses to Fortune 500 corporations. Mannacor Software India assists its customers with their business difficulties or technology projects by delivering a comprehensive array of technology solutions. Mannacor Software India would welcome the opportunity to collaborate with a team or corporation on a small project or operations that require specialized software development. Mannacor Software India is uniquely qualified to assess, build, and implement costeffective and time sensitive solutions, when other firms may struggle to produce a solution or fail to fulfill their objectives.

Within a short span of time, Mannacor Software India has evolved rapidly and has established itself as a one-stop-shop for the house construction industry. And as it proceeds ahead, the firm aims to provide solutions in the other industries as well, given the speed and quality of solutions available. "The ultimate achievement, in our opinion, is functional simplicity of complexity. The better the solution we can provide for an ostensibly complex situation, the easier it is. Unnecessary complexity is the enemy of excellent engineering and can lead to the failure of brilliant ideas. We understand that any solution given today will evolve and, as a result will require continuous maintenance in the future. As a result, it is in our best interests to develop systems that are adaptive and maintainable throughout time. We strive for solutions that can be updated over time and recognize patterns of behavior across multiple roles, modules, algorithms, and more. Change is unavoidable we must make the necessary preparations now so that we can easily adjust to and conquer the challenges that will be thrown our waytomorrow," concludes Shashi Bhushan.