Smartapp is a first-of-its-kind Fusion Platform that brings Agile Construction to life. The firm has had one aim since its inception to design technology that solves real issues and adds real value at an affordable price. The firm's core foundation is built on the notion that all customers, large and small, deserve the best from the company to assist them in realizing their project objectives. "We are motivated by our customers'successes, inspired by their challenges and constantly strive to improve so that they can succeed as well. We feel that each day is another chance for us to assist them in creating something from nothing one brick, one task, one step at a time," signifies Satya Vakkalanka, COO & CIO at Smartapp. CIO Insider engages in an exclusive interaction with Satya Vakkalanka, wherein he talks more about the unique traits of Smartapp.

What is Smartapp.com's present standing in the computer software industry?
Smartapp.com is a first-of-its-kind unifying fusion platform designed from the ground up to turn the Jobsite into a Smartsite. The Smartapp.com fusion platform is a reimagining of a solution that brings agile collaborative construction to life and turns the Jobsite into a Smartsite, making it the most crucial tool in the tool belt! Our fusion platform is used by world leading infrastructure intensive organizations to automate activities that allow them to securely deliver projects on time within budget. Smartapp.com is the result of years of industry experience and fantastic collaborations with early adopter industry giants such as Gilbane,ConEdison, National Grid and Staples who thought that technology should enable their project teams to
fundamentally improve the way they work.

Take us through the inception story of Smartapp in the Indian industry.
In May 2021, we began our India sales journey with technological presentations and demos to a select group of industry professionals. We had a decent opportunity of knowing industry needs, as well as the Indian industry's current systems, procedures, and techniques. We were able to quickly demonstrate how we can implement agile construction methods that help collect data from the field and present it to the office across multiple locations using our No code Fusion Platform, integrated tools that are very specific to the construction industry, and pre built/ready to use apps that help to digitize the work streams. This allowed us to swiftly obtain a few clients in India. We are certain that the Smartapp.com Fusion and Integrated Platform, together with its agile construction processes, will provide a very novel solution to project teams that are now juggling various applications to solve difficulties.

The Smartapp.com fusion platform is a reimagining of a solution that brings agile, collaborative construction to life and turns the Jobsite into a Smartsite, making it the most crucial tool in the tool belt
How do you ensure data security when providing a delivery infrastructure to your clients over the cloud?
Starting with real time multi party digital pull plan Boards,autogenerated CPM schedules, interactive Jobsite trailer Smartboards, and online and offline mobility worker updates, Smartapp.com redefines the boundaries of Jobsite automation and safety. It brings all the Field data collection(RFI punch list)and views & mark up needs of all your Jobsite documents from BIM models, CAD drawings, 360 photos to tracking safety credentials, STA's, safety bulletins, and incidents all in one place. Smartapp.com empowers project
teams to truly transform the way they plan, dispatch track and most importantly, automate the work they do With a modern, lean, agile construction paradigm under pinned by our seamlessly integrated software, mobility cloud, IoT, AI, no-code, and hardware next generation fusion platform.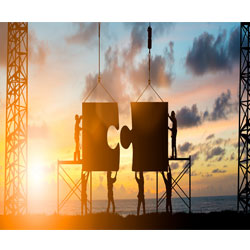 Further, the Smartapp.com fusion platform, unlike any other, improves project and Jobsite productivity by leveraging its seamless integrated proximity aware GPS & IoT positional sensors to maximize efficiency while eliminating unnecessary data entry, transforming it into a solution that works and benefits all stakeholders in a construction project from owners to GC/PM to Contractor.

Could you throw light on your Smartapp Planner pertaining to its features?
Smartapp.com editions have been bundled to automate any aspect of work in any magnitude of the project, so one can digitize their workstreams. Our editions include elements for infrastructure project management at four different levels. Smartapp PLANNERTM for project planning and scheduling, Smartapp FIELDTM for field mobility and operations, Smartapp SAFETYTM for centralized Jobsite safety management, and Smartapp PROTM for process automation. With fixed monthly pricing for unlimited users, there's NO SURPRISE BILLING so your project can stay on budget and on time!

Smartapp PRO also brings the most powerful automation capabilities with an Apps Marketplace subscription and a no-code platform to build one's own apps. With this unlimited app availability, one can automate absolutely any Jobsite work process without coding.