Selecting any software solution for the business, regardless of its intended level of use, can be a daunting and time-consuming task, with many potential pitfalls along the way. Speaking of ERP software, the CEO of newAmps has a very unique opinion. "A good informative and controlling spent towards the ERP solution help business become process oriented, but then the amount which business spends some times go waste behind data capturing, where true essence never gets evaluated. True Eye-opener shall consider different analytical process and lay stress on means and buts", explains Amitava Chatterjee, CEO & Co-Founder at newAmps Technologies. Based out of Kolkata, newAmps is an IT service groups that provides comprehensive business analytical solutions, especially through BI Tools, Big Data & Machine Learning, Open Source platforms.

newAmps' ideology has always been Business First, i.e. identify, analyse and solve the business problems for different service lines which the company loves to cater under one umbrella.

newAmps' expertise lies on business problem solution. The start is made with business problem identification in Banking, Pharmaceutical market research, Public sector, and Retail & Logistics. One thing to be noted here is that data volume varies from terabyte to petabytes scale. Over the last few years, newAmps formed a small CoE with techno-functional expertise and started making their own End-to-End solution platform that evolved around open-source technologies. This includes all echo system implementation of Hadoop as well as using Hortonwork installation gateway that shall govern data and lineage amidst the data elements. In time, newAmps accumulated their own solution and product stack to address Operational Analytics as well as Business Decision-Making Dashboard. Also, the team of experts at newAmps has observed that batch-processed data
produced only Dimensional Analytics for decision support. However, the major flaw lied in parallel and near real time processing of Data which can translate a Just in Time analytics, with flavour of Descriptive, Cognitive and Prescriptive modelling.

Moreover, newAmps CoE teams formed a robust solution mechanism which delivers the idea of Data Ingestion as a service from most of the renowned ERP. Following this, the mechanism also offers analysis as a service based on most popular Industry-practice algorithm, Machine Learning as a service platform, and integration with the data layers.

"newAmps' CoE teams formed a robust solution mechanism which delivers the idea of Data Ingestion as a service from most of the renowned ERP"

The Platform for all Data Grooming Requisites
Having years of experience with the IT business needs, Amitava quite accurately describes the present day customer expectations with their business software. He explains that ETL, Data modelling and eye soothing graphs are not enough, and that people want more power at their fingertips; power in terms of Readily available Ingestion, and Learning Platform. Besides, graphs and charts, narratives, robust translation service and 360 degree of dashboard which can change with the objective or alerts set on factual insight of the business needs, stakeholders also expect to see a dashboard that changes based on the facts and prediction calibrated against Mechanical assets held by the company.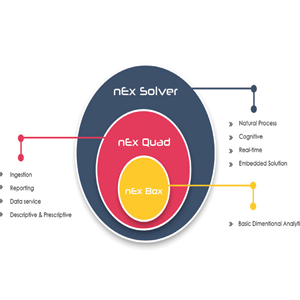 Thus, newAmps derived a platform that speaks to IoT & log on real-time settings and trigger & predict the asset's life expectancy. More so, the platform is built to give the insight on the organization level batch-data analytics. Based on a particular firm's huge volume of data articulation, the system
can predict Customer Behaviour, Fraudulent Activity, Segmentation, Comprehensive bench marking, Competitive portfolio, Inventory replenishment to optimize cash flow, Recommendation, Product relativity, association rules, Projected Profit & Loss with all major key indices of accounting management, target market prediction, seasonal alerts, and pattern & observation etc.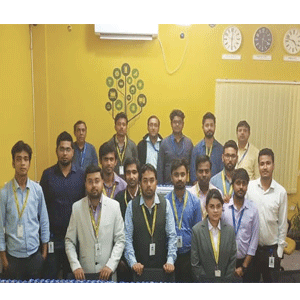 Team newAmps

newAmps' expert R&D team has turned all business use case under one umbrella solution known as 'nEX'. The platform can be delivered with choice of any Big Data storage and echo system. newAmps' nEX is the bench marking platform for government and enterprises. The platform is not only visualization software, but a bundle of all the right analytics tools under one umbrella. It includes Master Data Management, Extraction Load & Transformation process, Data Management, Data Quality Data Governance, Adhoc Analysis, Semantic layer to build business cases, analytical modelling, and visualization.

Currently, newAmps, is managing few of the Smart City projects building Command and Control dashboard by managing Government assess based feeds and help GoI to make effective body for penetration into their service sector. Also, newAmps is driving many Analytical projects with nEX for different organization specially Retail, Banking and Agro Industry vertical who struggling to translate Terabytes of data to get meaningful business insights.

Range of parameters Addressed by nEX
•Data Management – own product lines with various Open Source Data Storage
•Business Intelligence Platform
•Machine Learning & Deep learning
•Embedded Analytics
•NLP, NLG and Neural network formation
•Guided Artificial Intelligence service