A good number of companies are unaware of field force automation, and this particular type of enterprise resource is fairly new. Although ensuring peak customer satisfaction is the endgame, properly managing the field force is the way to accomplish it. There are a number of businesses that have a direct sales force or a number of staff working across different locations in various parts of the country or the world. Obviously, reporting becomes a coherent concern, when huge work force is at play. This makes it all the more important to get hands on a suitable filed force management software that swiftly imbibes into a businesses' processes. Based out of Noida, dayTrack is helping businesses to keep a close track on the accurate information regarding the work or visits done by field employees.

Being a field-force employee management app service provider, dayTrack has an extensive 15 years of rich experience in a wide range of industries that depend on mobile-based communication and field employees tracking.

"School-age processes of reaching out to the field agents are less efficient and have chances of error too as its human-driven and beyond this, taking report from the field executive in real-time is not possible. So, most of the time the minimum time lag between work done
is of at least one working day. Again the report is to be prepared by field employees at the end of the day or at the start of next working day. This process is too lengthy and consumes a lot of productive time", dayTrack's Co-founder, Saurabh Bhatnagar, explains about the existing dilemma with the field reporting.

"dayTrack helps organizations to allocate visits to the field employees using PC while the field employees can directly access the same on their smartphone"

A Gamut of Features
Being a comprehensive sales employee tracking app, dayTrack helps organizations to allocate visits to the field employees using PC while the field employees can directly access the same on their smart phone.

When sales employees check in and out of customer visits with the app, their locations are recorded, the duration of the visit is calculated, and details are mapped out in real time. This not only lets the business owner stay connected with the team, but also helps plan and manage the sales team, territories, and schedules in a better way.

dayTrack's GEO tagged visits with an authentic time stamp helps the organizations to ensure that their customers are served on time. The report is generated automatically and is transmitted to admin on a web-based control panel. Also, the system sends the email of task or visit done to the field executive, while a copy of the same is sent to his/her reporting officer., thereby keeping every stakeholder on the same page. "If we calculate, with dayTrack, the organization can save minimum 20-30 minutes of a field employee on a daily basis, plus they get better reporting that too without any follow-ups", adds Saurabh.

dayTrack is developed with inputs from various business verticals like
publishers, FMCG, pharmaceuticals, petroleum products and consumer electronic goods co. etc. to ensure sales employee tracking becomes a piece of cake, allowing businesses to focus on their core competence. The tracking app covers a plethora of tasks associated with a sales executive like meeting customers, giving samples, taking orders, collecting payments, taking feedback, and putting advertisement material at customers place etc. Sales employees are also given the option to take pictures with GPS details, feed in his/her daily expenses and upload pictures of any outdoor marketing activity done along with the GPS details of the location of the activity. Embarked with all such features, a business is empowered with micro-level of information thereby allowing taking right decisions on time for future.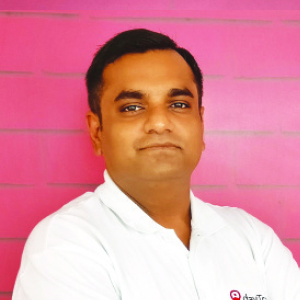 Gaurav Gupta, Co-Founder

"We are working towards introducing Artificial Intelligence to the app which will help organizations to take timely decisions based on the analytics provided by dayTrack", informs Gaurav Gupta, Co-founder at dayTrack. With such a dynamic product in a dynamic technology world, dayTrack has been making its mark on the Field Service Management domain and will continue to do so becoming a truly global product.