According to big data stats churned out by Reed Smith LLP, the yester year recorded the highest rate of cyber attacks a whopping 400 percent year-over-year increase. It's a no brainer that work from home setups and remote working have played a huge role in these escalated stats. With attackers waiting for the first mistake you make, there is literally no room for error, and hence, adopting a comprehensive approach is the need of the hour for organizations. It's not surprising that organizations take no risk and partner with proven companies like Forenzy Networks, which provides end-to-end solutions so that they can focus on their business operations in a stress free environment.

A leading Cyber Security and Digital Forensics company, Forenzy is a one-stop-shop for everything cyber comprising an excellent team of experienced professionals with expertise in both Automated Tools as well as Manual Threat Detection not to mention the company's experience in working with law firms and various government agencies in solving sophisticated cybercrime cases. We recently got in touch with Bhaumik Merchant, the co-founder of Forenzy. Below is an excerpt of the interview.

In conversation with Bhaumik Merchant, Co-founder, Forenzy Networks.

At a CAGR of 15.6percent, the cyber security market in India is slated to reach $ 3.05 billion by 2022, according to latest estimates by PwC. Where is Forenzy positioned in the market?
We signed off in 2020 by acquiring domestic MSME and large scale enterprise customers consuming our Cyber Security and Forensics services bundled with two core Product Offerings, Forenzy's VMP as well as Uptime. An integrated management service comprising Cyber Security& Digital Forensics Services, our proprietor products and Virtual CISO helped us in successfully delivering state-of-the-art Cyber Security solutions. In the first quarter of 2021 our Revenues were increased by 24 percent compared to 11 percent in Q4 2020 with our Global footprint in the US, Canada and Brazil along with domestic market business expansions.

Hence, at a CAGR of 15.6 percent for the Indian domestic market, we aim to acquire and take leverage of forecasted global CAGR of 10.9 percent by delivering and selling state-of-the-art Cyber Security & forensics services bundled with our Cyber Security Products.

Tell us about the portfolio of services offered to the customers? How does the company stand out from its competitors in the market?
We provide a robust approach for securing an organizationfrom a hacker's perspective with our Cyber Security Services and Products through our 'One Touch Platform' for safeguarding Cloud and on premise infra. The concept is to provide One Platform to request remediate and respond with a single click.

In addition to our Vulnerability Assessment and Pentesting services, offering niche services like virtual CISO, Cyber Advisors, Digital Forensics & Secure Network Designing allow our customers to confide in us in securing their organization
In addition to our Vulnerability Assessment and Pentesting services, offering niche services like virtual CISO, Cyber Advisors, Digital Forensics & Secure Network Designing allow our customers to confide in us in securing their organization. Forenzy has always been receiving more inquiries through our customers'references and earned a position in our customers'immediate 'go-to' list by delivering excellent all in one service offerings and Products.
An organization is nothing without a proficient team. We encourage our folks to speak about their research over Global Cyber Security conferences/platforms which demonstrates best of our research capabilities and customer conviction. A globally certified team along with Bug bounty badges assures cutting edge service deliveries.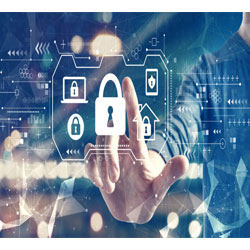 Could you talk about your Vulnerability Management Program and how it makes an organization's infrastructure hack proof?
With technological advancements, where an average of 50 ZERO Days are announced in a day, quarterly Cloud/On premise audits are never going to be enough in providing thorough protection. Most of the Cyber Security products are focused on the vulnerability discovery process, which is only a basic first step towards Cyber Securityfor an organization (vulnerability discovery seems to be the very first step). To Secure an organization, the most important management aspects after vulner ability discovery are threat confirmation, severity prioritization, vulnerability remediation, getting the organization's threat score and a program to track weekly progress, which all we've included in Forenzy's VMP a classic Hybrid approach to make infrastructure full proof against Advanced Cyber Threats. To complete our Hybrid secu
rity approach, we designed VMP to be capable of persistent scanning, discovering, alerting, monitoring, prioritizing and compliance reporting.

Along with zero day reporting, we aim to reduce MTTR(Mean Time to Remediate) which is nearly 60.3days on average for critical internet facing application vulner abilities. Higher the MTTR, Higher the risk of being compromised. Our concept of the VMP portal is to showcase the organization's Cyber Security landscape over a single dashboard for both C-Suite business executives and IT Security/ Management teams. In simple words, one can fully control the threat landscape from a single platform that has both the infrastructure availability score and organizational level threat score which gives an executive visualization of the threat landscape and the organization's infrastructure availability with integrated scanning and alerting.

With respect to Forenzy's journey so far, what has been the most unforgettable challenging project that brought major changes to the company? What were the lessons learned?
Speaking of the unforgettable and challenging cases, I recollect two incidents that encouraged us to evolve our service offerings and our approach towards Cyber Security during the tough times of the COVID 2020 pandemic where Cyber Attacks have exponentially grown, and multiple challenges are faced by many organizations to keep their cycles running.

Working with a restricted atmosphere becomes more challenging to deliver outstanding services, experience, and commitments. In one such case, where one of our customers was waiting for their mandatory onsite Manual Security Audit which we wanted to deliver under a restricted atmosphere where we could not allow on site visits and data security compliance would not allow clients to share data outside of their network.

Serving our customers beyond unconditional circumstances/parameters was itself a great challenge for us and encouraged our team to come up with a unique solution to execute Manual On Site Audits while avoiding onsite visits by adhering to data security compliances.

Another most common baseline challenge/ issue faced by any organization identified through our Cyber Advisory Service is lack of Cyber Awareness. In Forenzy's journey so far, we have recognized the necessity of Cyber Awareness against evolving Cyber Threats along with securing the world from Cyber Attacks.

According to the company's future roadmap, what are the opportunities that you foresee investing in and how do you plan to execute them?
We are excited to take Forenzy's VMP one step ahead, and on top of our existing Cloud scanning features, we would like to add Cloud compliance scanning features along with our existing Cloud Security offerings. Cloud misconfigurations are becoming a common issue nowadays, which is causing major ITsecurity damages. Auditing Cloud by keeping compliances in mind will definitelyhelp enterprises in safeguarding their edges over the internet.