Saarth Infosec: Ensuring Business Resilience with Simplified, Cost-Effective, Yet Robust Security Consultancy & Services
It's almost a curse that mankind can never get rid of committing mistakes. The internet realm is no exception. The cyber world is bound by attackers who count on those mistakes and they often pounce on it at the least expected moment, creating devastating effects. The pandemic and the new work from anywhere culture which followed have been a tailwind to this predicament. According to the data from Computer Emergency Response Team (CERT-In), the Union Home Ministry recently told Parliament that the cyber attacks amid the Covid-19 pandemic rose by almost 300 percent last year in the country to reach 1,158,208 compared to 394,499 in 2019. Backed up by more than five decades of cumulative IT & IT Security expertise, Pune-based SAARTH INFOSEC PRIVATE LIMITED is manifesting how an information, data & cyber security and data privacy partner could be a crucial aspect of business resiliency. A 'Startup India' recognized company, SAARTH is proving to be an invincible team of talented IT Security, Cyber Security, Data Security, and Data Privacy leaders and professionals with solid international and heterogeneous-environment experience in managing, implementing, consulting, and advising practical and proven security solutions. In an endeavor to further explore the exciting propositions of the company, CIO Insider interviews the man at the helm, Mohan Maruti Jadhav (Director & CISO).

When it comes to offering cyber security solutions, where is SAARTH positioned in the current IT services industry in India?
We are a startup company in the core cyber security services domain catering across all industry domains. We also have 'Startup India' program recognition. As a startup we have had a humble beginning, however we aim to be amongst top 10 cyber security
services companies in India by 2030.

Could you elaborate on the company's portfolio of services?
We offer our services under two major categories Strategic Cyber Security Services and Standard Security Services.

Our Standard Security Services include everything from Vulnerability Assessments and Penetration Testing(VAPT)across entire IT Estate to Internal & External Security Audits and International Standards Certifications. We also offer Security Policies, Standards, Processes, & Guidelines Development Security Governance, Risks, & Compliance Management (GRC) Security Operations Management (SecOps) Applications Security (Web & Distributed) Email, Network, & Cloud Security Security Awareness Training & Assessments and IT Security Staffing.

values are built around the promise that we keep by focusing on simplicity, continuous improvements, automation, reducing waste, and process improvements
On the other hand, we also offer Chief Information Security Officer as a Service (Virtual CISO), Data Protection Officer as a Service(Virtual DPO), Information Security Manager as a Service (Virtual ISM), Security Advisory & Consulting, Cloud Services (CS) and Enterprise Application Services(EAS).
SAARTH has been recognized as a 'Startup India'Company this year by the Department for Promotion of Industry and Internal Trade. What does receiving this recognition mean for the company? What makes your company unique?
We are happy to have this recognition. We are determined to enable and empower our clients to stay secure, accelerate their business, and support them to remain competitive. While doing so, we aim to generate employment and contribute to the Nation's growth, which is our social responsibility.
Our values are built around the promise
that we keep by focusing on simplicity, continuous improvements, automation,
reducing waste, and process improvements. We fullycommit to augmenting our client's business to excel far beyond their expectations. We are destined to deliver success that can be measured and improved with every review cycle. Our commitment for our client's success, transparent and honest dealings, iterate and reiterate continuous improvements make us unique. We focus on protecting our client and their organization's Reputation, Financials and Customers (RFC) and Confidentiality Integrity and Availability (CIA) of valuable business data.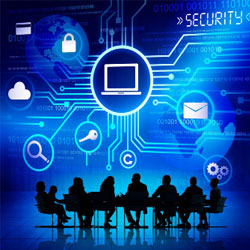 What are the methods that the company applies to understand a customer's pain points and provide an effective solution?
We have developed our own cyber security frame work called SIDCSF, which enables us to identify our client's business pain points and address those with respect to their business environment, costs and its long term benefits.

We in fact have adopted a five point solutioning strategy around the laws that (i) if there is a vulnerability, it will be exploited (ii)everything is vulnerable in some way (iii)humans trust even when they should not (iv)with Innovation comes opportunity for exploitation and (v)when in Doubt, see the law No. 1.

Enroute to the future, what is the roadmap set for SAARTH?
We have a very positive outlook towards the future. We are developing a product and platform to address data security and data privacy concerns of organizations of any size and shape. Going forward we stand in line with our mission to uncomplicate, and provide simplified, cost effective, yet robust security consultancy and services to shield businesses from the internal and external threats related to information, data, cyber security, and data privacy.